"Do you do Soft Orthotics?"
This is a question that is often asked of me and my receptionists.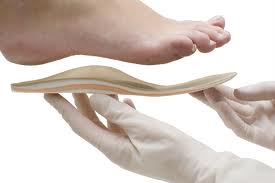 Personally its one of those questions that makes me cringe, as I really believe it is a common misconception that hard orthotics are not comfortable.
In my opinion anything that has the support/pressure in the wrong places is going to be uncomfortable, it does not matter if it hard or soft.  Simply only wanting soft orthotics is missing what orthotics are all about.
To clarify this statement further this is what I discuss with patients when considering the use of orthotics –
Firstly I like to clarify what an orthotic is.  This term is often used to describe anything placed in shoes.  I prefer to instead call devices placed in shoes as in shoe supports, of which there are 3 options.
Option one is the Off the Shelf Innersole – this is something that someone can purchase from the sports store, chemist, supermarkets and even online.
Option two is a Customised Innersole – this is usually a heat mouldable material that is pulled out of packet heated and then applied to the foot.  For some this is where the production ends and the person wears the device.  What I do with the customised innersoles is wait for the material to cool and then add extra support to maintain the shape achieved through the heating and moulding process.
Option three is a Customised Orthotic – this is produced after capturing the image of the person's foot and making a support based on the image. 
All three options of in shoe supports are trying to do the same thing – support the foot, remove stress, strain, and pain and improve function.  The fundamental differences between the three options are –
Cost – this can range from $20 to $600 and even higher.
Life span  – this ranges from months to 6 to 8 years and beyond.
Accuracy – something from a packet compared to something made just for you.
I do soft orthotics but I also do hard and in between.  By in-between I still use a hard material but alter the thickness of the material which makes it less rigid and more flexible so patients get the support of the device but also get a level of give or flex in the orthotic
I do customised innersoles and I also suggest patients try the off the shelf innersoles.
But what I try to ensure is that all patients understand and appreciate the difference in the in shoe supports as well as the issues that they have come to see me about and what is going to get them better faster and keep them healthy.
At the end of the day in shoe supports/orthotics succeed or fail because of the following 3 reasons –
They must be comfortable.
They must fit in the shoes that the patient will wear.
The patient understands why they have orthotics and is following up with stretches and exercises if advised.
Perhaps there should be a change in terminology when talking about orthotics and whether to make them hard or soft.  Instead they should be classed as rigid, semi rigid or flexible.  Hopefully regardless on the type of orthotic you get they are comfortable.