Anyone who has had an active life is prone to have knee issues at some time.
There are many reasons for knee pain and therefore many treatments available.  What I will focus on is specifically medial knee pain as a result of OA (osteoarthritis)
Classically OA of the medial knee is due to –
Gender.
Genetics
Exercise history
Injury history.
Footwear habits.
Life style habits
Work habits.
A normal adult knee x-ray would look like this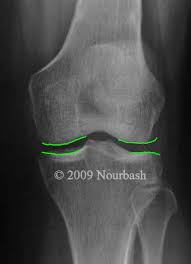 While a knee with medial OA would look like this, note the narrowing and hard white appearance at the narrowing this is OA and as you can imagine the two bones are rubbing on each other.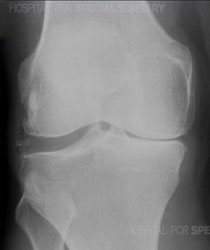 The knees can look like this with advance medial OA "bow legged" appearance, making walking and standing very uncomfortable.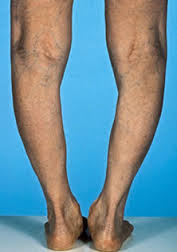 When knees become this bow legged and such advanced medial compartment OA the only permanent solution is surgical correction of the deformity.  With that said there are a multitude of non-invasive treatments that might relive the OA pain issues suffered by patients.
With regards to podiatry focussed care for medial compartment OA of the knees there has been growing evidence in support of the use of in shoe supports for the foot to unload the knees.  What you normally find with knees with marked medial OA the feet are usually very pronated or flat foot and the arches collapsed.  This is a compensation done by the body for the bowing of the legs as the foot is connected to the legs and hence will roll in like this.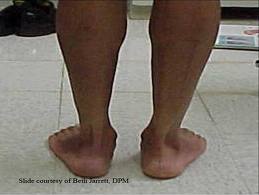 The supports are not what you would expect, as looking at these feet you would expect that the arches would need supporting to push the arches up.  Yet to do that, will put more pressure at the medial aspect of the knees and increasing the jamming of the joints and also increase pain.
The supports used in this form of treatment are along the outside of the foot to in-fact push them in further, which is pronating the foot further.  This increased pronation will in turn open the medial aspect of the knee and reduce the patients' pain.  Please note the word REDUCE.
The wedges/supports are simple devices and very cost effective and can be added to all footwear even thongs.  The belief is that the wedging will not resolve the pain but reduce it to allow patients to function with improved comfort before possible surgery.  Call Absolute Podiatry to discuss how this form of treatment could help you and or a family member.