A lot is the fast answer.
Yours and your family's foot health is the focus of Absolute Podiatry in both Brisbane and Bundaberg.
We look after all of your issues from the knees down, from a new born to a new to retirement.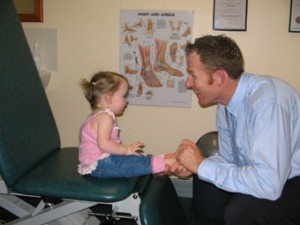 The human body is an amazing piece of machinery it will deal with issues throughout your life.  Eventually though poor function can and does lead to pain.  Absolute Podiatry can review your movement pattern/gait to make sure that you are not placing unnecessary load on joints and muscles such as ankles, knees and even your lower back.
A podiatrist is interested in how you wear down shoes as well as the type of shoes you spend time in.  We can suggest the best shoe for you for work and play to reduce the risk of issues down the track.  Whether you are a regular avid runner or part time walker Absolute Podiatry is geared to make exercise as efficient and stresses free as possible, as well as making sure you achieve your fitness goals.
If you are recovering from injury and or surgery to the lower limbs Absolute Podiatry can ensure you get back on your feet as quickly as possible, via footwear, exercises and in some cases in shoe devices.
Bunion issues are a special interest for Absolute Podiatry – the earlier the intervention the better the results.  There are many ways to deal with bunions which will be discussed on forthcoming posts.
Absolute Podiatry has developed skills and understanding in the care of new mothers and mothers to be, to ensure that their foot health is looked after, as due with the changes in you body, your feet can struggle.  This can be arch and or heel pain, knee, lower back and SIJ (sacroiliac joint) discomfort.  As well as dried and cracked feet.
Another major area that Absolute Podiatry works in is diabetes foot care.  Early intervention is the key as well as early education as a lot of issues suffered from diabetic complications can and should be avoided.  Once problems occur it can be a very slippery slope.  Those who have been diagnoses with diabetes can and should request an EPC plan (see below) to be put in place by their doctor so they can see a podiatrist as soon as possible after diagnosis.
Absolute Podiatry will liaise with others involved with your health such as your GP, physiotherapists, and specialists, striving to ensure you can do what you want on your feet without pain.
Within Australia you do not require a referral to see a podiatrist, unless you hold a department of veterans card (DVA).  There is a health care program under Medicare called Enhanced Primary Care (EPC) plan which your doctor can put in place if you suffer from chronic health issues such as diabetes, arthritis etc.  This may cover the cost for the consultation but each podiatrist can chose to accept the Medicare amount or request a gap payment to be made by you at the time of the consultation.  Private health insurance funds can cover some of the cost to see a podiatrist but this depends on your level of cover.
If you have any specific questions on what podiatry can do for you please don't hesitate to ask.